For over 30 years, the Alzheimer's Project has provided comfort to people living with memory disorders while making sure their care partners feel supported. The Alzheimer's Project's continued success as a local nonprofit organization is due to both the dedication of our knowledgeable staff as well as the leadership and support from our engaged Board Members. Unfortunately, we must say goodbye to several Members as their terms of service are ending. However, we are also excited to begin searching for new community members to Get On Board! Your chance to make a difference is right NOW.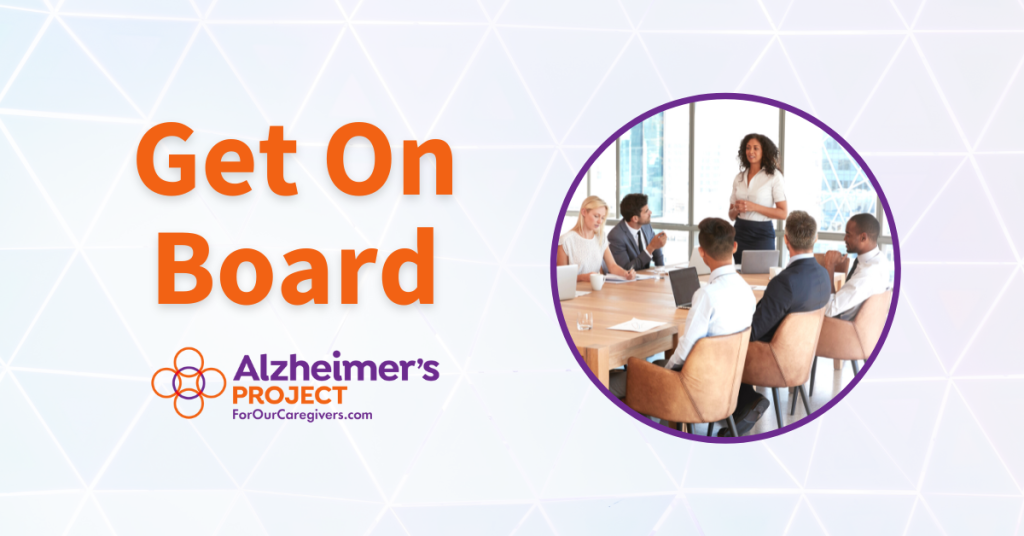 What are the responsibilities?
The Board of Directors is the governing body of the Alzheimer's Project. Governance is at a high level which includes strategy, financial oversight, and accountability. Board Members meet monthly to discuss and vote on the affairs of the organization, participate regularly in committee meetings, and remain active throughout the service term. Some Members also get involved in community events representing AP, share the mission with friends & family, share personal skills & talents, and any other ways you can help sustain our mission. Terms are six years long but one may roll off early due to situational changes.
What qualifications do I need?
The most important qualification is a passion to help the Alzheimer's Project perform at a high-level serving local families in need. Diversity and inclusion are a priority; we seek individuals from all areas of the community. Other qualifications include a willingness to commit time to Board/committee meetings, planning sessions, and special events as well as the ability to brainstorm and collaborate with others. 
Financial sustainability is also part of the mission, which means Members should be willing to help raise funds. This includes but is not limited to asking your social network for contributions, seeking sponsorships, and attracting attendees to fundraising events.  
While not a requirement for membership for yourself, we do have needs specific to our organization that would be extremely beneficial. If you happen to know someone in the fields of finance and accounting, website and technology, or public relations then please let them know about this volunteer opportunity.
What should I do if I'm interested in joining?
First, you'll want to talk to our Executive Director, John Trombetta. You can call him at +1-850-386-2778, email him at John@AlzheimersProject.org or fill out this form. He can answer any preliminary questions you may have. Then, we can set up an informal meeting with other Members. The final step is attending a Board Meeting and receiving a vote of approval from a majority of the Board of Directors.  
Joining the Alzheimer's Project Board of Directors entails a serious commitment on your part. In return, serving may be one of the most rewarding experiences of your life. Join us an be a part of the Alzheimer's Project mission!