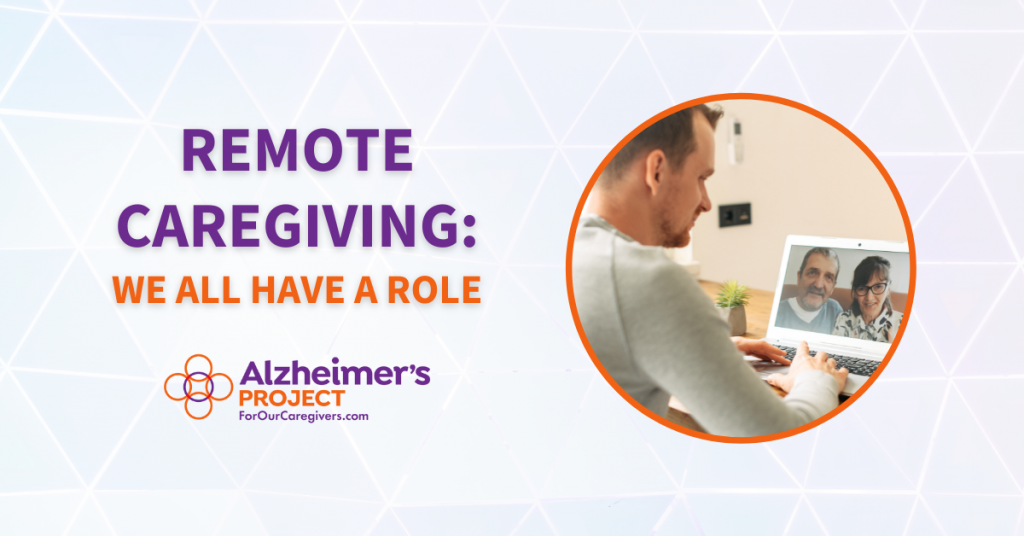 Written by Carol Bracy, Board Member, Alzheimer's Project
When I started to write about my remote caregiving experience, I asked my sister what she thought I should convey in this article. Her text back was "communication"…I couldn't agree more. My sister and I, like so many family members, participate in "remote caregiving." In our case, it is caring for our mom from afar.
Carol's Story of Remote Caregiving
Several years ago, as a family we decided to relocate my mom to stay with my older brother and sister-in-law. They made the most loving decision to care for her as the Alzheimer's disease progressed. My younger siblings had done such an incredible job looking after her in the early stages of the disease. This was when she didn't need as much daily and ongoing support. It's been a long journey, but we committed as her children to care for her and not place her in institutional care. This family decision meant we all had to do our part. We each had a role and obligation to take care of her, no matter where we lived.
Relocating our mom with our brother and sister-in-law meant I could see her often, spend that precious time to help care for her, and provide respite for my brother and his wife. I felt that it was the least I can do in honoring the commitment I made to my family.
Remote caregiving can be a challenge if expectations and roles of responsibility are not clear from the outset. It is important to determine what each person's roles will be. We determined, early on, what each person would do with input and guidance from our mom.
Our family agreed that everyone would be consulted to make decisions collectively. We also understood that managing our mom's affairs would require a sharing of this responsibility. There is a lot to be done, and we didn't know how long the disease would progress. Families must deal with legal and financial matters, health care decisions, and the evolving care plan.
Communication is Key
A family caregiver can't do everything. At times it can be overwhelming, stressful, and emotionally painful. The physical and mental health of caregivers is as important as those we care for with memory disorders like Alzheimer's and other dementias.
Ongoing communication with caregivers to check on your loved one as well as checking on them is so important. It's also critical for caregivers to communicate how our loved ones are doing. All the changes (big or small) that are happening with an Alzheimer's patient are signals that their condition is changing. They also need to communicate when they themselves need help, relief, and just emotional support. As a remote caregiver, we don't always know what questions to ask or can anticipate when cognitive changes will occur.
Alzheimer's Project is Here to Help
The Alzheimer's Project offers services centered around supporting the well-being of our caregivers in the Florida Big Bend region. Please visit our Services page to learn more about our Respite Care, Support Groups, counseling and more. I personally recommend checking out A Guide to Remote Caregiving for helpful tips. In addition, my mom's neurologist recommended reading Learning to Speak Alzheimer's: A Groundbreaking Approach for Everyone Dealing with the Disease by Joanne Koenig Coste. Last but not least, the Alzheimer's Project Resource Manual has many other resource recommendations if you are looking for more information. It has been called a "caregivers bible" by many!
Carol currently serves as a Board member and Secretary of the Alzheimer's Project, Inc.